Roger Brooks Soulful House Shows
Show: Soulful House & In The Mix – Saturday & Sunday Afternoons UK 1pm – 4pm GMT.
Social Media: Facebook
Social Media: Facebook 2
Roger Brooks:
Not only a DJ but the sole owner Of Chocolate Radio. Roger got involved with DJing back in the late 70's early 80's after hearing Soul and Jazz Funk being played on the then unlicensed radio stations Horizon Radio, Invicta and JFM.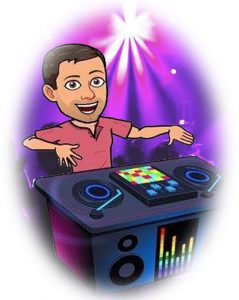 Inspired by what he heard, he got out to events in London and witnessed the legendary Froggy (Steven Howlett) in action, this truly mesmerised Roger who knew he wanted to be a DJ that could mix music, like the greats at the time (Froggy & Mastermind & others) where doing. He took up the art of mixing and over time has developed his own style of mixing which today you can hear on his Chocolate Radio shows
Roger worked as a DJ in local clubs, then join radio with shows on London's TKO (owned and run by Louie St Clair) as Mastermix DJ. He later went on to Co-found Touch FM, which ran until the late 90's, later going on to join Soul FM.
Times where changing in the unlicensed radio world in London, so Roger looked to the future of radio and what might happen in broadcasting. In 2009 he registered the domain name www.Chocolate-Radio.Com, thinking this might be the future of radio. This proved to be right and test transmissions where carried out.
As technology has developed, more and more radio station have started broadcasting on the net, but other commitments slowed the advancement of Chocolate Radio, which has been an R&D program for Roger.
Roger Brooks Chocolate Radio Today
Now with a new team of Soul, Jazz Funk, R&B, Soulful House and Reggae presenters Roger has give the station another push. Today Chocolate radio is an Internet soul radio station broadcasting globally with an audience that is building daily. Listeners today are from all four corners of the globe.
Looking back to those early days, Roger smiles and just says thank you to those people who have inspired him over the years. Tony Johns and the Radio Invicta, Horizon Radio and JFM along with the brilliant Froggy for the master mixing classes.
Catch Roger here on Chocolate Radio on Saturdays and Sundays 1pm until 4pm UK time with guest DJ's mixing and talking Soulful House Jazz Funk and Disco.
---